The TPC-H is a decision support benchmark. It consists of a suite of business oriented ad-hoc queries and concurrent data modifications. The queries and the data populating the database have been chosen to have broad industry-wide relevance. This benchmark illustrates decision support systems that examine large volumes of data, execute queries with a high degree of complexity, and give answers to critical business questions.
Timbr TPC-H Benchmark for Query Complexity
Timbr's semantic graph model maps databases to provide unified meaning and relationships to data. By querying the model's concepts instead of directly querying the data, SQL queries become simpler to create, understand and maintain. We use the TPC-H benchmark to compare the complexity of SQL queries of the Timbr model with SQL queries of the data (without Timbr), where complexity is measured by the number of Join clauses and the total number of lines used in each query.  Using the TPC-H data (see ERD Model below), we created a Timbr model (see Timbr model of the TPC-H ERD further below) and mapped the model to the corresponding data tables.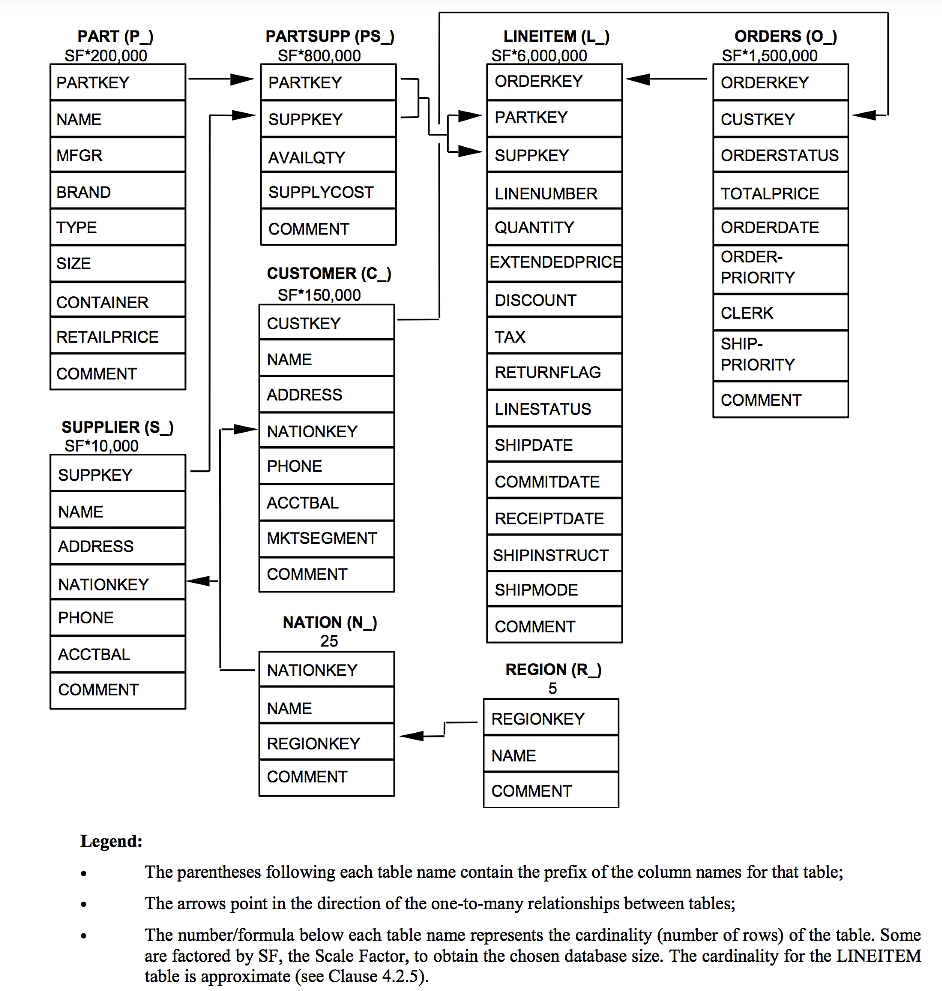 Timbr model of the TPC-H ERD
Results of query complexity comparison
| Q1 | Timbr | Without |
| --- | --- | --- |
| SQL Lines | 14 | 14 |
| SQL JOINS | 0 | 0 |
| Q3 | Timbr | Without |
| --- | --- | --- |
| SQL Lines | 10 | 12 |
| SQL JOINS | 0 | 2 |
| Q5 | Timbr | Without |
| --- | --- | --- |
| SQL Lines | 7 | 13 |
| SQL JOINS | 0 | 5 |
| Q7 | Timbr | Without |
| --- | --- | --- |
| SQL Lines | 10 | 20 |
| SQL JOINS | 0 | 5 |
| Q9 | Timbr | Without |
| --- | --- | --- |
| SQL Lines | 7 | 16 |
| SQL JOINS | 0 | 5 |
| Q11 | Timbr | Without |
| --- | --- | --- |
| SQL Lines | 8 | 17 |
| SQL JOINS | 0 | 2 |
| Q13 | Timbr | Without |
| --- | --- | --- |
| SQL Lines | 11 | 11 |
| SQL JOINS | 0 | 1 |
| Q15 | Timbr | Without |
| --- | --- | --- |
| SQL Lines | 15 | 25 |
| SQL JOINS | 0 | 1 |
| Q17 | Timbr | Without |
| --- | --- | --- |
| SQL Lines | 4 | 10 |
| SQL JOINS | 0 | 1 |
| Q19 | Timbr | Without |
| --- | --- | --- |
| SQL Lines | 11 | 21 |
| SQL JOINS | 0 | 1 |
| Q21 | Timbr | Without |
| --- | --- | --- |
| SQL Lines | 13 | 24 |
| SQL JOINS | 0 | 3 |
| Q2 | Timbr | Without |
| --- | --- | --- |
| SQL Lines | 12 | 26 |
| SQL JOINS | 0 | 7 |
| Q4 | Timbr | Without |
| --- | --- | --- |
| SQL Lines | 7 | 11 |
| SQL JOINS | 0 | 0 |
| Q6 | Timbr | Without |
| --- | --- | --- |
| SQL Lines | 4 | 6 |
| SQL JOINS | 0 | 0 |
| Q8 | Timbr | Without |
| --- | --- | --- |
| SQL Lines | 8 | 19 |
| SQL JOINS | 0 | 7 |
| Q10 | Timbr | Without |
| --- | --- | --- |
| SQL Lines | 12 | 17 |
| SQL JOINS | 0 | 3 |
| Q12 | Timbr | Without |
| --- | --- | --- |
| SQL Lines | 9 | 12 |
| SQL JOINS | 0 | 1 |
| Q14 | Timbr | Without |
| --- | --- | --- |
| SQL Lines | 4 | 5 |
| SQL JOINS | 0 | 1 |
| Q16 | Timbr | Without |
| --- | --- | --- |
| SQL Lines | 11 | 11 |
| SQL JOINS | 0 | 1 |
| Q18 | Timbr | Without |
| --- | --- | --- |
| SQL Lines | 10 | 12 |
| SQL JOINS | 0 | 2 |
| Q20 | Timbr | Without |
| --- | --- | --- |
| SQL Lines | 10 | 20 |
| SQL JOINS | 0 | 1 |
| Q22 | Timbr | Without |
| --- | --- | --- |
| SQL Lines | 8 | 20 |
| SQL JOINS | 0 | 0 |
| Total | Timbr | Without |
| --- | --- | --- |
| SQL Lines | 205 | 342 |
| SQL JOINS | 0 | 49 |
Detailed TPC-H Benchmark Results
Select a query to view the results