Timbr delivers the fastest and most convenient implementation
of data fabric and data mesh capabilities.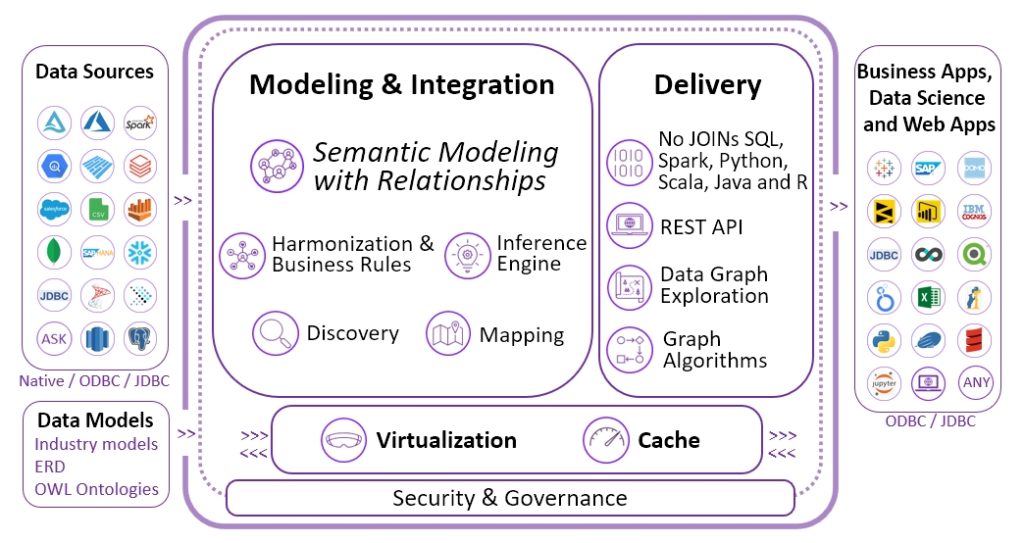 What is a Data Fabric?
The Data Fabric architecture supports frictionless access and sharing of data in a distributed network environment.
To make it work, it is necessary to enable flexible integration and understanding of heterogeneous data by providing it with business meaning and relationships.
What is a Data Mesh?
Data Mesh tries to solve three challenges with a centralized data lake/warehouse:
Lack of ownership: who owns the data – the data source team or the infrastructure team?
Lack of quality – the infrastructure team is responsible for quality but does not know the data well.
Organizational scaling – the central team becomes the bottleneck, such as with an enterprise data lake/warehouse.
While a data mesh aims to solve many of the same problems as a data fabric –namely, the difficulty of managing data in a heterogeneous data environment– it tackles the problem in a fundamentally different manner.
In short, while the data fabric seeks to build a single, virtual management layer atop distributed data, the data mesh allows distributed teams to manage data as they see fit, while complying with some common governance provisions.
Weave or Mesh? Timbr!
Timbr enables modeling of data fabric / data mesh architectures as virtual semantic knowledge graphs that are native to the SQL-ecosystem. This means that there's no need to add infrastructure, move data or acquire new skills.
It also means that from implementation to insight, Timbr delivers the fastest and most economical solution while data consumers across the enterprise conveniently gain a 360° view of data and deliver advanced analytics and reporting fast and with minimum effort.
Worried about performance? Timbr includes a powerful virtualization engine that enables query of data across sources at scale and does it economically using Timbr's intelligent cache manager.
It's not a dream, it's Timbr.
Contact us today to accelerate your semantic data journey.