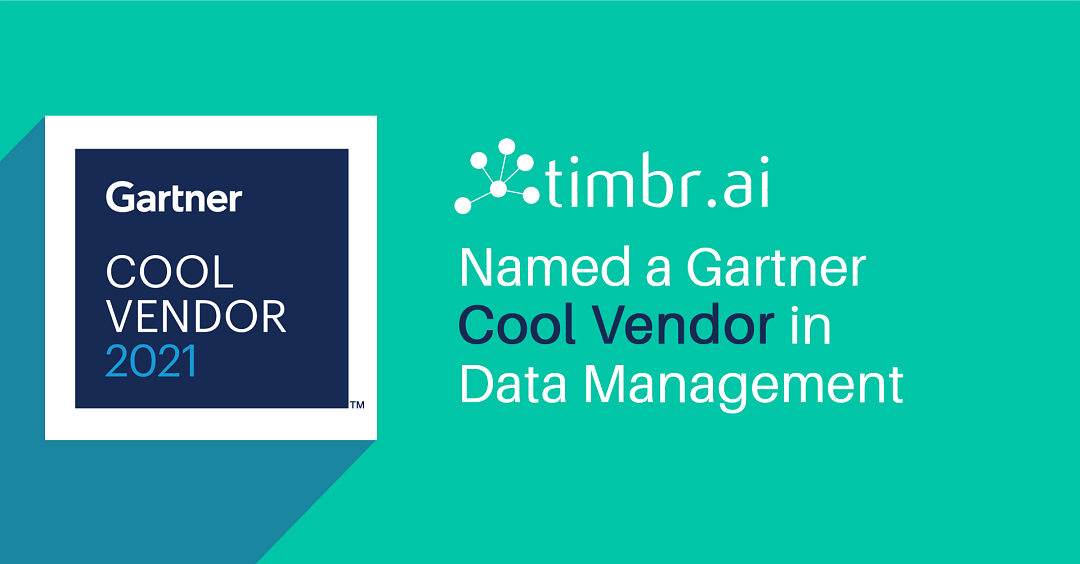 I am proud to announce that Timbr.ai has been named by Gartner a 2021 Cool Vendor for Data Management*.
Timbr's goal is to organize and democratize access to data, empowering users for the fastest, most agile delivery of advanced analytics across multiple and varied data sources, without need of special skills or even knowing where or how the data is stored.
Its semantic and graph driven features enable organizations to capitalize on the business value of distributed data, overcoming the complexity of integrating separate data sources and providing them with a common business meaning so users can easily find, understand and access data.
The platform delivers key capabilities that enable the enterprise data fabric: best in class and convenient data mapping and access, virtualization, exploration of data as a connected graph of relationships, semantic cataloging, governance and security.
Being named a Gartner Cool Vendor is a recognition of our technological innovation and the business impact of Timbr. A recent conversation with one of our customers illustrates Timbr's impact: 
 "Our analytics enablement project was planned for completion in one year. With Timbr, we completed it in 20% of the planned time at a cost of 10% of the original budget. I consider data discovery and data agility as the two best features of Timbr."
According to Gartner, what makes timbr COOL?
"timbr provides a graph-style structure for integrated data, based on ontology modeling and semantic reasoning in SQL over diverse data sources, including data lakes and data warehouses. Capitalizing on demands for new paradigms for knowledge representation and machine learning support of data consumption, timbr sets out to alleviate difficulties in integration and data management to bridge the gap between conventional SQL-fluent databases and relationship-rich smart knowledge graphs. This enables querying data from abstracted views, using SQL code that is significantly less complex than the SQL required to query the same data via a relational model. The combination of knowledge graph and data virtualization capabilities equips data consumers to explore an extensive range of organizational data represented as a single connected graph."
Timbr enables the virtual transformation of existing databases into semantic knowledge graphs with inference, inheritance, transitivity and graph capabilities. No need of adding new/separate databases, no need of moving/transforming data and no need of acquiring new skills.
Organizations benefit from automated analytical workflows while overall investment, implementation time-to-ROI, maintenance costs and cost-per-answer of analytic queries are dramatically reduced.
That's what makes our technology COOL.
Timbr is an ideal solution for empowering data consumers. If you want to learn more, contact us today for a demo.
If you are a Gartner subscriber, you can read the full report here.
* GARTNER Cool Vendors in Data Management, June 01, 2021. ID: G00746797. Analysts: Philip Russom , Ehtisham Zaidi , Jason Medd , Eric Thoo , Robert Thanaraj.
Gartner does not endorse any vendor, product or service depicted in its research publications, and does not advise technology users to select only those vendors with the highest ratings or other designation. Gartner research publications consist of the opinions of Gartner's research organization and should not be construed as statements of fact. Gartner disclaims all warranties, expressed or implied, with respect to this research, including any warranties of merchantability or fitness for a particular purpose.
The GARTNER COOL VENDOR badge and GARTNER are trademark and service marks of Gartner, Inc. and/or its affiliates and is used herein with permission. All rights reserved.